Paris:– December:– This is how the book page looks before it gets its full–tilt exciting fillers concerning the books featured on it. The first book is Heather Stimmler–Hall's great and brandnew guide to Paris. I have read a third of it, and it makes for terrific reading at breakfast. Not surprising that it has 'secrets' I never heard of before – Heather is the 'secrets' specialist for Paris. Coming soon – the rest of this page. Until then, all the links below should work. Hit 'em while there's time!
Paris and Ile de France (Adventure Guides Series) by Heather Stimmler–Hall. Besides being sporty and adventurous, Heather knows lots of Paris' secrets, so the guide sections are peppered with all sorts of interesting tidbits of lore, rumor, facts, and legends. But if you want more adventure and scads of 'sporty,' then this is the guide for you.
Paris takes you beyond the postcards to the photographed spirit of Paris. Today is featured but the past is never far away, punctuated with a selection of quotes and anecdotes by clear–eyed Paris observers such as Colette, Jean Cocteau and Henry Miller. Monuments there are, but also streets, markets, quartiers, interiors, theatres, and cafés, of course.
Barefoot in Paris: Easy French Food You Can Make at Home Ina Garten favors simple, sophisticated dishes, main courses that evoke the best of cozy bistro meals. In Barefoot in Paris, the Food Network star applies her cooking wisdom to the foods of France. Favoring fresh, quality ingredients, she offers flavorful twists on old favorites such as 'steak au poivre' and 'crème brulée' and new slants on dishes such as 'zucchini vichyssoise' and 'chicken with morels.' A feast of a book, 'Barefoot in Paris' contains 140 full–color photographs and a guide to sources for specialty ingredients.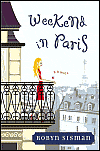 Weekend in Paris by Robyn Sisman. Small–town wannabe in London, Molly Clearwater, miffed by the boorish Malcolm Figg's so–called 'perk' of a long weekend in Paris, decides to go it alone and jumps on the train. Molly adventures begin at the Gare du Nord and pick up with a dizzying pace until Molly isn't who she was.
Almost French: Love and a New Life in Paris by Sarah Turnbull. Australian TV journalist Sarah Turnbull meets Frédéric in Bucharest, and then tries out Paris. Nothing is easy where subtle nuances, perilous pitfalls, and potentially mortifying double entendres are the norm. But Frédéric proves to be a pillar and Sarah fits in, changes careers, and gains insights. This deceptively breezy little memoir sheds unexpected light on the quirks of French character that some say are 'exceptions,' while others say they are faults.
Piano Shop on the Left Bank: Discovering a Forgotten Passion in a Paris Atelier by Thaddeus E. Carhart. In a small piano shop on the Left Bank an American writer rediscovers a passion for pianos, and is finally allowed to buy one. This sets off a history tour and reflections about piano teachers. The result is a warmhearted, sensitive memoir of a private Paris.
Remembrance of Things Paris: Sixty Years of Writing from Gourmet edited by Ruth Reichl. For the first time, a collection of essays about love and food in Paris, drawn from 60 years' worth of files from 'Gourmet' magazine. From bourgeois dinners of the past to the hero–chefs of today, here's Paris in all of its snobbery and refinement, with a chronicle of constant changes and an over–the–shoulder glance at the rich and tasteful past.
French Toast: An American in Paris Celebrates the Maddening Mysteries of the French by Harriet Welty–Rochefort. With a perspective of 20 years of living in Paris, Harriet from Iowa gradually makes sense of French notions of life by jumping in, and ends up by demystifying the French, unscrambling the codes. Full of funny reality checks.
The Paris Review Book of Heartbreak, Madness, Sex, Love, Betrayal, Outsiders, Intoxication, War, Whimsy, Horrors, God, Death, Dinner, Baseball, Travels, The Art of Writing, and Everything Else in the World since 1953, with an introduction by George Plimpton. For the 50th anniversary of the magazine, a unique collection of stories, poetry, thoughts, and observations on the themes of modern life both great and trivial, as well as a compendium of timeless insights, containing a dizzying range of thought and emotion, holding a mirror to the world we live in and to the our own hopes, dreams, fears, and joy. Actually, the title says it all.
Last Time I Saw Paris by Elizabeth A. Adler. Lara's surgeon–husband tells her at the last minute before a trip to Paris to reenact their honeymoon, that there's another woman. Almost heartbroken, she invites a much younger man to share the trip and they embark on a madcap romantic adventure that begins with missed connections, lost luggage, and language barriers, and ends up being Lara's journey to find herself and love in France.
Between Meals: An Appetite for Paris by A. J. Liebling with illustrations by James Salter. In his nostalgic review of his Rabelaisian initiation into life's finer pleasures, Liebling celebrates the richness and variety of French food, fondly recalling great meals and memorable wines. "There would come a time," he wrote, "When, if I had compared my life to a cake, the sojourns in Paris would have represented the chocolate filling. The intervening layers were plain sponge."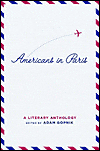 Americans in Paris: A Literary Anthology, edited by Adam Gopnik. The New York Times' Janet Maslin suggests skipping the book's chronological table of contents and just wandering through its more than 600 pages. The diverse pieces range from Benjamin Franklin's letter to Mary Stevenson in 1767, describing his first observations of the city, to fashion editor Diana Vreeland's memorable journeys to Paris as a representative of Harper's Bazaar after her reopening of the French collections following World War II. Other pieces are by such renowned travelers as Mark Twain, Henry James, F. Scott Fitzgerald and Gertrude Stein, among many others.